Back To Our Services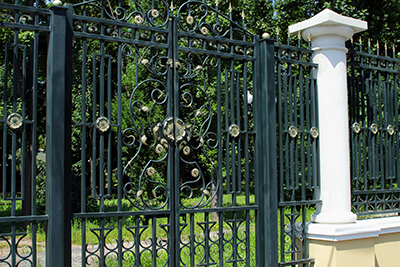 A wrought iron gate can not only add security and privacy, but also enhance the beauty of your home. While each one has its own advantage, the majority of homeowners opt for steel gates or gates made of wrought iron. You can get a combination of the finest design, art, as well as craftsmanship for your gate and at the same time increase its beauty and durability. The material from which the gate is constructed decides the gate's future.
Although wrought iron lasts for long, it is still vulnerable to rusting, due to which some parts of the gate like latches wear off. Whether they are custom made or ready to install gates, they are still prone to deterioration over the years. A broken gate can be very easily fixed by welding and this could secure your home better than ever before. Even though wrought iron gates are expensive than the wooden gates, they are still worth spending due to the safety and security they offer to your residence. Consider consulting an expert gate repair technician in order to get your gates repaired in a cost effective manner.
Professional Gate Welding Repairs and Services
Are you in a dilemma of where to begin with your residential gate installation? With a long history and a great reputation, "Gate Repair Laguna Hills" has a long line of happy customers to support their testimonial. Welding could be time consuming and hazardous, regardless of the size of the job you are doing. Only an expert in this field can get it done right.
Have a gate that needs immediate attention? Our same day emergency service can offer quick and reliable gate repairs to your residential and commercial gates. Is your gate wearing off due to weather conditions? We repair rotten gates and you will be surprised how your gate will look after we treat it. If you need gate hinge repair, we have extensive experience with welding of all types of gates. We offer regular inspections so that your gate can receive the right maintenance it deserves.
Give us at Gate Repair Laguna Hills a call for a consultation and quotes. We are more than happy to walk you through a new experience of getting welding services for your gates. Join our growing number of valued customers today!
Back To Our Services